CO2LIFT V: The At-Home Carboxy Vaginal Treatment Kit - 3 Count
Regular price
Sale price
$360.00
Unit price
per
Sale
Sold out
CO2LIFTV is a painless effective treatment that, with no downtime, addresses vaginal issues associated with aging, childbearing and/or stress. Our Kit comes with 3 treatments and 3 applicator sticks that can be used in the privacy of your home. After just one application users will feel and see results. Doctors recommend 10-15 treatments for long lasting results, that can be maintained by monthly treatments.
Produces Natural Lubrication
May Improve Vaginal Tightening
May Reduce Painful Intercourse
Enhances Cosmetic Appearance
May Increase Sensation
Directions
Before mixing the large and small pack in a small bowl, massage the small packet to soften it. After mixing thoroughly with mixing stick for about 1 minute, push the gel together in the bowl. Use applicator to pull up the gel. Insert into vagina and  on vulva. Apply 2/3 of the gel into the vagina. The rest apply to vulva. Leave on for 45 minutes minimum. You can leave on overnight. Rinse out of vagina by filling applicator with water. Do this about 3 times. Wash off the vulva. Pat dry.
Do the first 5 to 10 treatments within the first month. Then you can maintain with monthly treatments. 
For best resuIts, it is recommended to do a treatment every day or every other day.
Disclaimer
These statements have not been evaluated by the Food and Drug Administration (FDA). Use only as directed. This product is not intended to diagnose, treat, cure, or prevent any disease or as a prescription for medication. Please read all packaging and labels carefully. Always consult your physician or health care provider before taking any supplement. If you have or suspect that you have a medical problem, please consult your physician or health care provider.
Ingredients
Water, Butylene Glycol, Algin, Magnesium Carbonate, Hydrolyzed Collagen, Ceramide 1, Ceramide 3, Ceramide 6 ll, Passiflora Edulis Fruit Extract, Pueraria Thunbergiana Root Extract, Chlorella Vulgaris Extract, Aloe Barbadensis Leaf Extract, Artemisia Princeps Leaf Extract, Xanthan Gum, Calcium Chloride, Phytosphingosine, Cholesterol, Sodium Lauroyl Lactylate, Carbomer, Phenoxyethanol, Orange Yu (JTN), Titanium Dioxide, Iron Oxides, Alumina, Silica Dimethly Silylate.
Small Packet 2:
Gluconolactone, Water, Butylene Glycol, Squalane, Xanthan Gum, Magnesium Ascorbyl Phosphate.
Share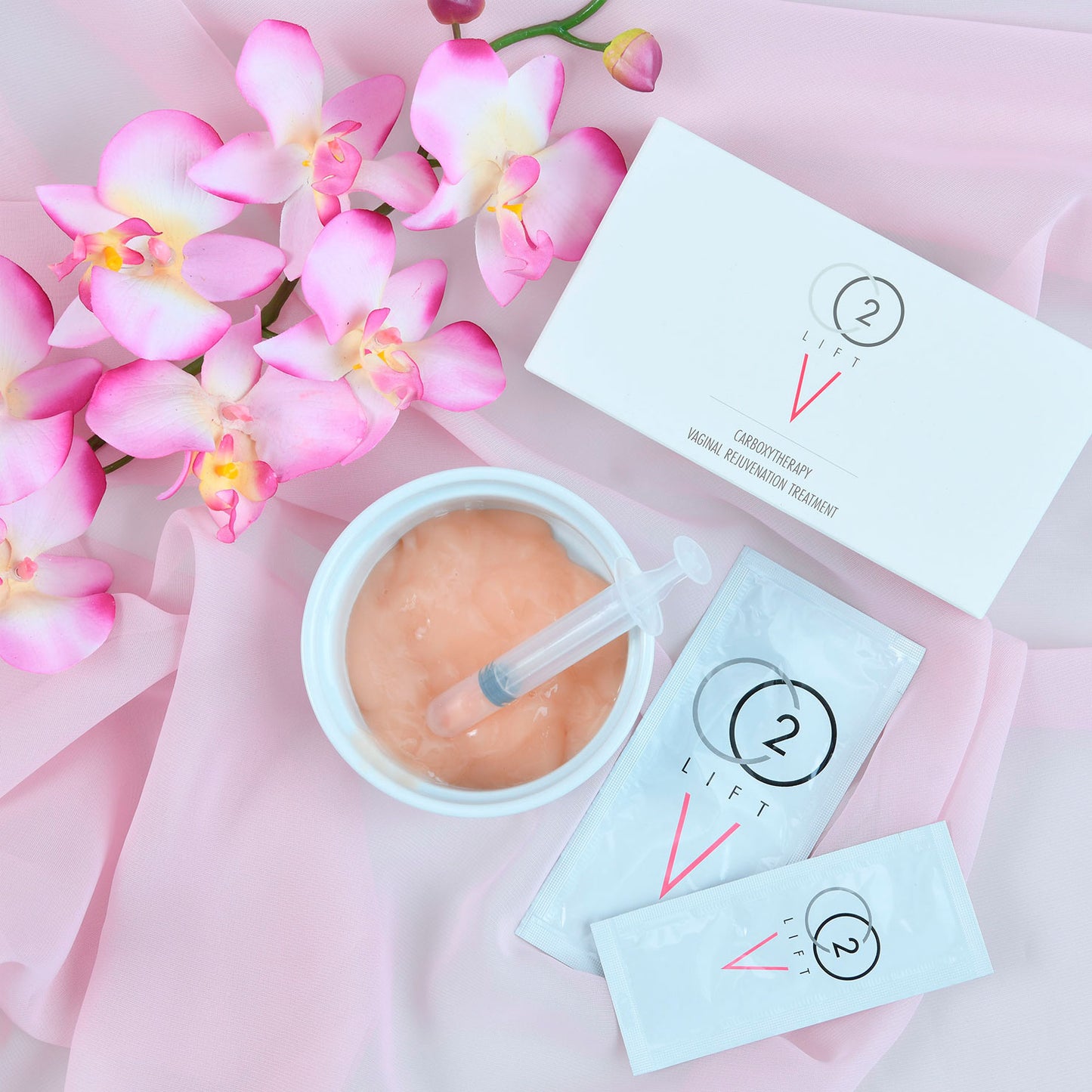 Review Product:
CO2LIFT V - TAKE HOME VAGINAL REJUVENATION (Set of 5)
Terrible
It gave me a terrible reaction. It was a waste of money unfortunately. I highly recommend you going to a Med spa instead. It was so painful I ended up at urgent care.
Review Product:
CO2LIFT V - TAKE HOME VAGINAL REJUVENATION (Set of 5)
CO2LiftV 3pack
I have not completed all three treatments and I believe there is already a difference.
Review Product:
CO2LIFT V - TAKE HOME VAGINAL REJUVENATION (Set of 5)
Product effectiveness
So far I have used 5 applications and had no results.
Review Product:
CO2LIFT Treatment Mask: Single Pack
Amazing mask
Leaves skin shining and smooth with a very nice glow
Review Product:
CO2LIFT V - TAKE HOME VAGINAL REJUVENATION (Set of 5)
Love the home kit.
I love it!! After 1st use I didn't really notice much difference but after the second use I am completely sold!!! The sex with my guy was already great and now it's even better. 😎 and the home kit is super easy to use in the privacy of your own home.