CO2LIFT Beauty Cleansing Tablet
Regular price
Sale price
$25.00
Unit price
per
Sale
Sold out
Enjoy the benefits of a carbon dioxide Japanese onsen or hot springs from the comfort of your home. Carbon dioxide springs are said to aid chronic constipation, high blood pressure, or burns. It can help you to relax your muscles, flush out toxins, decrease inflammation, and promote sleep.
The mineral sodium bicarbonate are beneficial for chronic dermatitis, wound healing, and balances the pH level of your skin to make it glow.
Additionally, taking time for a bath is perfect for intense self-care, which can help to decrease the risk of depression or burnout.
Place about 5 tablets in a bathtub with warm water of about 86 degrees Fahrenheit. Soak for a minimum of 15 minimum to absorb the gas through your skin, expanding the capillaries and improving circulation.
BODY * Reduces muscle soreness.
FACE * Works as a cleanser to removes surface oils, makeup, unclogs pores and leaves skin feeling radiant.


HAIR* Rinsing hair and scalp with CO2LIFT Beauty Cleansing Tablet cleansing water eliminates pore clogging dirt and grease.  Scalp is revitalized, and natural shine is revealed.
Ingredients


Sodium Bicarbonate, Citric Acid, Sodium Carbonate, PEG-150, Sodium Caprylyl Sulfonate
Share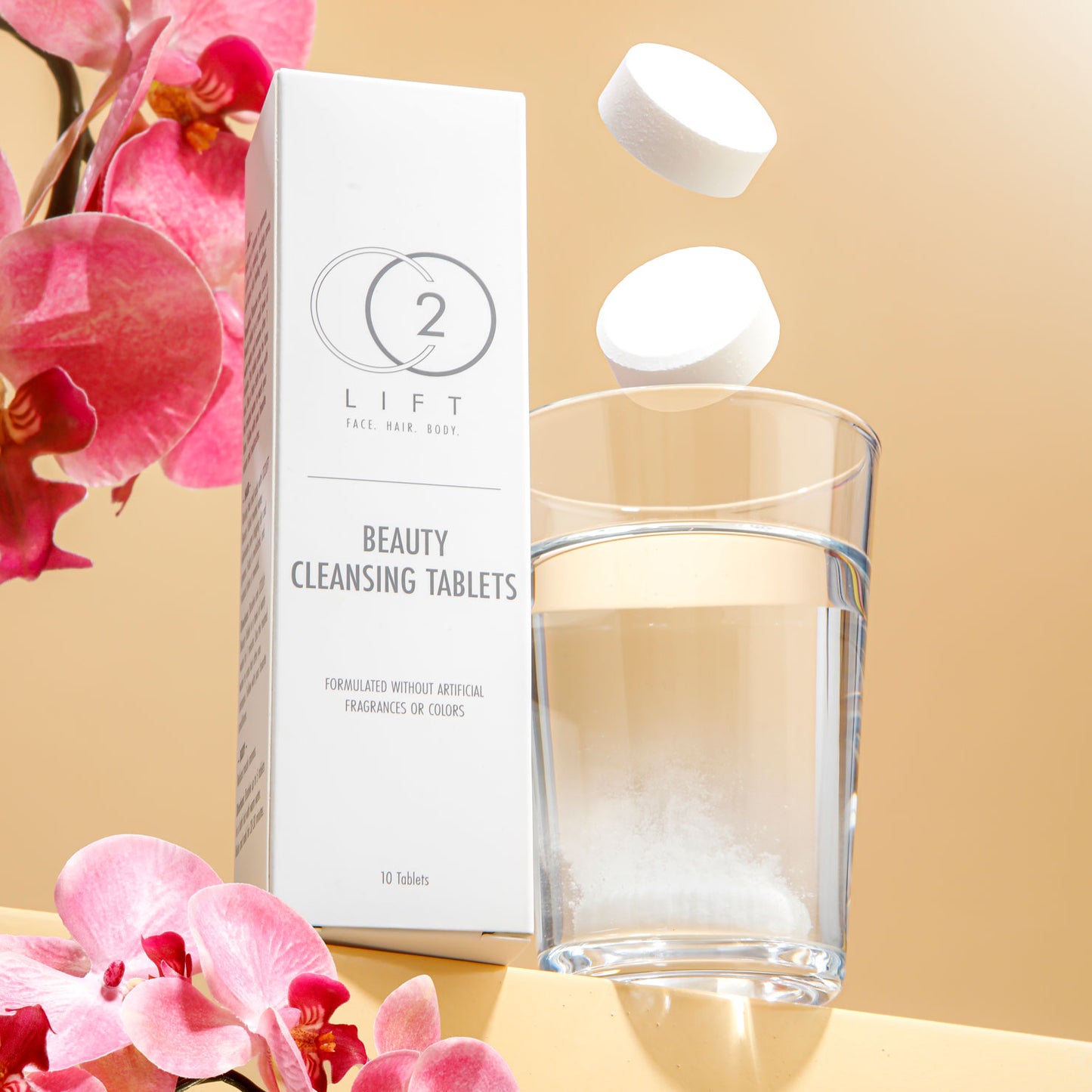 Review Product:
CO2LIFT Treatment Mask: Single Pack, CO2LIFT Beauty Cleansing Tablet
A face full of scrubbing gentle bubbles
Very different from most cleansers but gentle and very refreshing . Then I dermaplaned my face and enjoyed a relaxing 60 minutes of a fantastic hydrating CO2 lift mask. I feel amazing 🤩
Review Product:
CO2LIFT Beauty Cleansing Tablet
Great product - bonus - nice for travel
I've used the beauty cleansing tablets to wash my face and in the shower. I love the combination of the tablets for a face cleanser and then following up that with the co2 moisturizing foam. The two together are a complete win! The clean feeing is so good! Also - I've taken the tablets on trips and it's nice that they are great for traveling!
Review Product:
CO2LIFT Beauty Cleansing Tablet
CO2LIFT Beauty Cleansing Tablet
Review Product:
CO2LIFT Beauty Cleansing Tablet
I love using these tablets.
Each time I use these tablets I notice on my wash cloth after using that my wash cloth looks dirty and I notice that it is cleaning super well. Super charge cleaning.
Review Product:
CO2LIFT Beauty Cleansing Tablet
Tablets broken and crushed
The cleansing tablets were okay as I used them in the bath instead of individually since they were crushed during shipping.